As we approach St Patrick's day, many of us will raise a glass of Irish whiskey with friends either in person or across the internet. But, to paraphrase the great Irish poet W.B. Yeats, the contents of that glass may be about to change, change utterly.
Up until quite recently, many whiskey connoisseurs have tended to be slightly dismissive of Irish whiskey, pigeon-holing it as mostly light, smooth, and inoffensive. Some of these opinions may have had some merit, but now a resurgent Irish whiskey sector is enthusiastically pulling the rug out from under those old assumptions.
For those with an adventurous palate, Irish whiskey is beginning to offer an extraordinary range of styles and within the next few years, we can expect this category to take us to some very unusual places indeed.
You are probably familiar with the classic Irish blended whiskey style. Typically, a blend of grain whiskey and unpeated triple distilled malt and/or pot still whiskey. Often this is aged in ex-bourbon casks to produce that approachable, easy-drinking dram which has provided the salve to many a quiet night in and the lubricant to many more convivial nights out. But how did this style emerge?
The history of Irish pot still whiskey
Irish pot still whiskey occupied a rarefied place as the world's leading spirit in the 19th century. However, a series of calamities befell the category to such an extent that by the late 1970s the entire industry had consolidated down to one company, Irish Distillers Limited (IDL). They operated only from two distilleries: Midleton and Bushmills. Bushmills continued to produce malt whiskey, forming the backbone of its blends. The newer Midleton distillery produced an amazing variety of pot still whiskeys, much of which went into blends such as Jameson, Tullamore, Paddy's, and Powers.
What all these blends have in common is that they are triple distilled, making for a light and fruity style of spirit. These blends are also aged primarily in ex-bourbon casks which imbue the mature product with soft vanilla and gentle spice notes.
In the mid-20th century, this easy-going whiskey proved very popular with the largest global whiskey market, the USA. So much so, that the more traditional single malt and single pot still Irish whiskeys became the preserve of the aficionado. None of which is to be in any way dismissive of the Irish blended style.
For those with an adventurous palate, Irish whiskey is beginning to offer an extraordinary range of styles and within the next few years, we can expect this category to take us to some very unusual places indeed.
There are many good reasons why blended Irish whiskey has come to occupy a place in bars and drinks cabinets worldwide. However, its overwhelming popularity did come at a price. This was the loss of stylistic variety within the category.
Cooley and John Teeling
Things began to change when John Teeling converted a biofuel plant in Cooley, County Louth, into a whiskey distillery in the late 1980s. While Cooley produced mainly blends, they also began to experiment around the fringes of what was possible in malt whiskey.
The Cooley approach was slightly different and somewhat closer to Scottish practices than to typical Irish distilling of the time. Teeling chose to double distil his malt whiskey, producing a more full-bodied spirit. With his new expression Connemara, peated single malt Irish whiskey was back on the menu.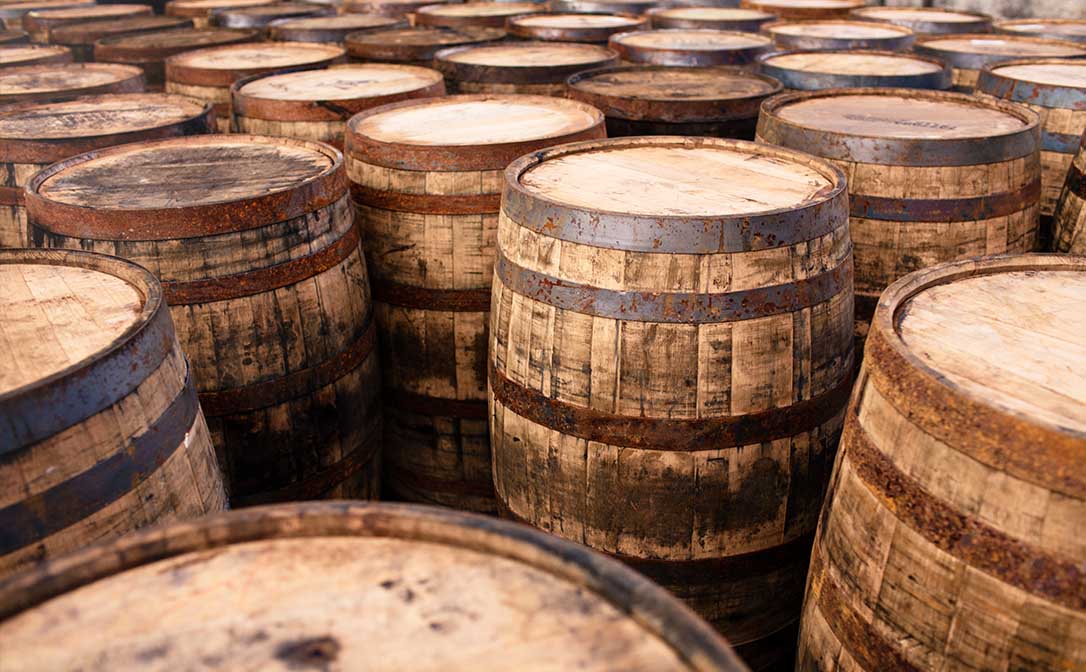 Under the Tyrconnell brand, they began to dive deep into the world of cask finishes, resting the ex-bourbon cask matured malt spirit for several months in ex-sherry, port, and Madeira casks before bottling. Significantly Cooley also produced whiskey for third-party brands, and their expertise in cask finishing allowed them to produce a very wide range of whiskeys from a relatively small distillery.
In 1988, Pernod Ricard acquired Irish Distillers Limited. They had a vision of where the category could develop. The recent rampant success of Jameson as a global brand is very much down to this commitment.
Irish Pot Still Whiskey
Meanwhile, it was what was happening behind the scenes at Midleton that sowed the seeds for the renaissance of the Irish pot still style. By combining unmalted and malted barley along with other grains in the mash bill, this uniquely Irish spirit develops a distinctive set of fruity aromas, with a creamy texture and a spicy finish.
Pot still Irish whiskey was the spirit that had been so globally dominant in the 19th century, but yet it came extraordinarily close to disappearing entirely. For much of the last half-century, Midleton was the only distillery making this style.
The vast majority of Midleton pot still went into Jameson and the other Irish blends made there. Indeed, today there is some pot still whiskey in every bottle of blended whiskey produced by Irish Distillers Limited.
Single pot still whiskey
But what of the Single Pot Still Irish whiskey, the unblended stuff?
Well, if you've ever encountered Redbreast or Green Spot, they were very much the last men standing. IDL's decision to preserve and rekindle these brands when there was not an obvious business case to do so, has been pivotal in the survival of this style of whiskey. This decision is now reaping rich rewards, with the rebirth of the pot still style playing a major part in the wider renaissance of Irish whiskey globally.
These days Irish whiskey is one of the most exciting categories in global spirits with significant recent investments in new major distilleries from William Grant & Sons at Tullamore and Diageo at Roe & Co. Dublin.
Irish whiskey to present
But it is perhaps what is happening at the next tier down that is causing most interest from the wider whiskey world. It's fair to say that the distillery landscape in Ireland has mushroomed as of late. Whereas in the '90s only Midleton, Bushmills and Cooley were producing Irish whiskey. New distilleries are now being commissioned at an astonishing rate and today over 30 distilleries are producing Irish whiskey, with many more in planning.
Each of these new distilleries is developing its own distinctive style. West Cork Distillers' use of bog oak and even seaweed to re-char their casks has produced singularly intriguing results. While Dingle's annual Single Pot Still releases are fetching serious prices on the secondary auction market.
Remember John Teeling? Well, he sold Cooley-Kilbeggan to Beam-Suntory, while making sure to keep plenty of mature stock in the family. This facilitated his sons Jack and Stephen to start Teeling Whiskey and build a brand new distillery in the heart of Dublin. Teeling Single Malt expressions now regularly win global plaudits, while their distillery produces a wide range of styles combining traditional Irish methods with an extraordinarily innovative cask programme.
Meanwhile, John Teeling has taken a leaf out of his own book and converted an old brewery into the Great Northern Distillery, where he makes a wide range of whiskey styles. Great Northern is rapidly becoming the go-to contract distiller on the island due to the versatility of its whiskey production options.
Controversy in pot still Irish whiskey
All is not entirely frictionless though, as the discovery of historical mash bill records have shown that many traditional pot still Irish whiskeys would not meet the current legal definition of 'Pot Still Irish Whiskey'.
Rather than be deterred by this, some more agile distilleries such as Killowen, Blackwater, Echlinville & Boann have recreated these historical mash bills, often combining unusual practices such as malting oats with traditional peat-fired malting to create some extraordinary spirits that are due to reach maturity over the coming years. Whether the EU technical file which defines the pot still style will have been revised in time for their release is another matter. Sometimes a little controversy can be grist to the mill!
Modern distilleries
Since the early days of Cooley, finishing whiskies in different casks has become widely practised in Irish whiskey production. It is especially useful for brands who source their whiskey from a distillery and are looking to give that whiskey a distinctive character. This practice can produce mixed results, however, the best practitioners produce outstanding results.
Glendalough's use of Japanese Mizunara oak to finish their 17-year-old single malt has been a notable success. Meanwhile many producers have been taking advantage of the fact that the regulations around maturation in Irish whiskey are more liberal than most other whiskey-producing nations. Whereas Scotch must be aged in oak, and Bourbon in newly-charred virgin white oak, Irish whiskey must be aged in wooden barrels. This opens a whole plethora of options.
Midleton has gone so far as to open a second, 'micro-distillery' called Method & Madness, dedicated to innovation, often using casks made from unusual woods such as Chestnut and Cherry to age their malt, grain or pot still whiskeys. Bonders and blenders such as JJ Corry and W.D. O' Connell have also taken a very adventurous approach to finishing. They carefully select from a very wide range of casks including virgin American oak, virgin French oak, and casks that have previously held a range of fortified wines, dessert wines, and spirits ranging from Tequila to Cognac.
These days Irish whiskey is one of the most exciting categories in global spirits with significant recent investments in new major distilleries from William Grant & Sons at Tullamore and Diageo at Roe & Co. Dublin.
And then there is Waterford Distillery. Founded by Mark Reynier of Bruichladdich fame, on the singular premise that terroir in whiskey is not only real but should be celebrated. Waterford is dedicated to producing annual releases using barley from individual Irish farms to showcase the unique character of the resultant whiskey field by field.
The first releases emerged last year and having tasted several, I can confirm that there is indeed a distinction between these bottles. After a few years, we should be able to discern annual variation and measure it against the consistency of the production process. Then we can judge for ourselves, the degree to which this grand experiment of provenance has proven its premise.
As with so many of the other emerging innovations from Ireland, the proof will be in the tasting. And we haven't even touched on the topic of Poitín, that other great traditional Irish spirit. This journey of revival and innovation certainly promises to be a lot of fun for us Whiskey drinkers. And that's certainly something worth raising a glass to.
Sláinte!
Written by Charlie McCarthy, Business Development Manager - Spirits (EMEA)