The Izzys - IWSA Awards
Posted by Irish Whiskey USA on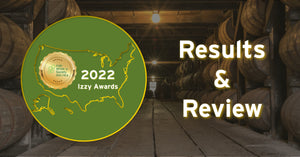 We are happy to announce the results of the inaugural 2022 Irish Whiskey Society America Awards. The IWSA Awards or Izzys recognize and celebrate the brands and contributors to Irish Whiskey in the USA. Nominations were taken during the month of November across 13 different categories. The top 3 in each category were then open for voting during December by anyone residing in the USA. Thanks to everyone who participated in the voting process and Congratulations to all the nominees and favorites. The Izzys as voted by the Irish whiskey community in the USA are listed below.  Midleton Distillery garnered the most...
Posted by Irish Whiskey USA on
  Thanks you to everyone who took the time to vote in the inaugural Irish Whiskey Society Awards - the Izzy's. We'll check the final tally's this week and post the final results on this page once we have them and we'll send an email to everyone who voted. Sláinte! For those of you interested in joining the Irish Whiskey Society Awards please click the image below for more details.