New Redbreast Tawny Port Release
Posted by Irish Whiskey USA on
Redbreast adds to Iberian whiskey range
Irish whiskey brand Redbreast has extended its Iberian Series with a Tawny Port Cask Edition.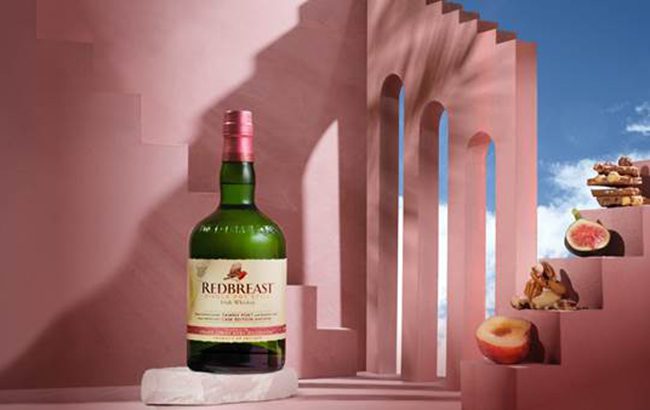 The Irish Distillers-owned brand produces Redbreast at Midleton Distillery in Cork.
The limited edition, single pot still Irish whiskey is the third release in the brand's Iberian Series, which is inspired by Redbreast's long-standing connection to some of the Iberian Peninsula's most celebrated cooperages and winemakers.
The Irish whiskey is initially matured in a combination of Bourbon and oloroso Sherry casks. Some of these maturing whiskeys are then recasked into tawny Port casks from Portugal's Douro Valley for a number of years, before they are all blended and complete their maturation in tawny Port hogsheads for a final period of 14 to 25 months.
Created by master blender Billy Leighton and blender Dave McCabe, it is the second limited edition to join the series, following the 2021 release of Redbreast Pedro Ximénez Edition.
Twelve years ago, Leighton visited some of Redbreast's partner cooperages and winemakers in the Douro Valley. Reflecting on the trip, he said: "Enjoying lunch with the late renowned winemaker Joaquim Anacleto and Gesprove winemaker José Pinheiro overlooking the valley, we were discussing the various wines and spirits that had influenced our whiskeys over the years and tawny Port came up in conversation.
"Having worked with ruby Port previously, we pondered the differences tawny Port holds and subsequently the intriguing flavour profile that it could add to our whiskeys.
"Since then, we have been ageing single pot still whiskey in a small number of tawny Port casks we receive annually from this beautiful, sun-drenched valley and, needless to say, we have been delighted with the results."
McCabe added: "The combination of ageing some of the liquid in tawny Port casks for a longer period and recasking all of the whiskey in tawny Port hogsheads for its final maturation is what makes this expression so special.
"The flavour profile of Redbreast Tawny Port Cask Edition is in keeping with the recognisable Redbreast family DNA, yet provides an exciting twist from another part of the Iberian Peninsula.
"Each subsequent expression in the series will represent a new discovery from this rich region, which to date has greatly influenced the Redbreast style over the course of its history."
Redbreast Tawny Port Cask Edition is bottled at 46% ABV and will be priced at €100/£79/US$100.
This article originally appeared here.
---
Share this post
---
---