Midleton Unveils Distillery Exclusive Redbreast 10yr
Posted by Irish Whiskey USA on
Irish whiskey brand Redbreast has created a distillery-exclusive 10-year-old expression matured in four different casks.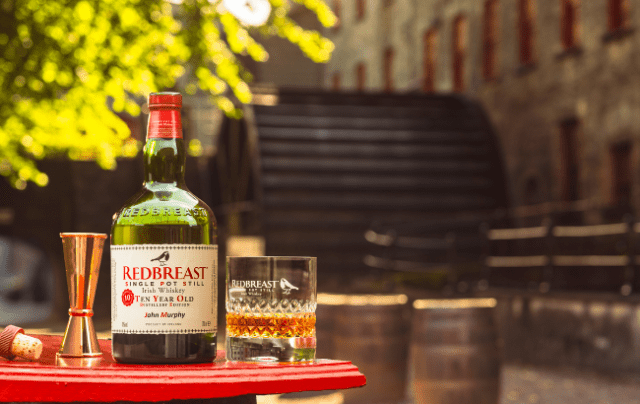 Labelled Redbreast 10 Year Old Distillery Edition, the expression is designed and crafted by master blender, Billy Leighton, in collaboration with blender, Dave McCabe.
It is said to be a re-creation of the original 10-year-old Gilbey's expression that hasn't been produced in 50 years, and another 10-year old Redbreast bottling from 2021, which was released to celebrate the brand's 30th anniversary since its resurrection.
To make this one, the two blenders used three distillate styles – a mix of light, medium and traditional pot stills – which were matured across four different cask types, including American Bourbon barrels, Pedro Ximénez Sherry casks and virgin European oak casks.
Leighton detailed: "By using the full range of distillates alongside traditional barrels, those reserved for limited edition Redbreast offerings and the new introduction of virgin oak, the liquid serves as an homage to the full breadth of craft and flavour within the Redbreast family.
"Redbreast 10 Year Old Distillery Edition showcases not only the journey that the Redbreast brand has been on to date, but also foreshadows the unique tastes and flavours that are yet to come as the single pot renaissance continues."
For the finish, expect oak and woodland fruits to linger 'gently' until the end.
McCabe added: "It's an honour for me to be part of Redbreast's remarkable journey of success as it continues to flourish.
"What better way to pay tribute to this than by creating a liquid to celebrate the newly refurbished Midleton Distillery Experience, where the brand's rich past, present, and future is showcased alongside those of Irish Distillers other remarkable Irish whiskey families?"
Irish Distillers began a €13 million (US$14.7m) upgrade of its Midleton visitor experience in 2021.
It also plans to build a new carbon-neutral whiskey distillery in Midleton, expected to be ready for 2025.
Redbreast 10 Year Old Distillery Edition is bottled at 43% ABV and can be purchased from the newly reopened Midleton Distillery Experience in Cork and Jameson Distillery Bow Street in Dublin.
It will retail for €120 (US$126.11) or €125 (US$131.37) for those who want a personalised bottle.
This article originally appeared here.
---
Share this post
---
---