New Midleton Distillery Planned
Posted by Irish Whiskey USA on
Irish Distillers plans second Midleton distillery
Pernod Ricard's Irish Distillers arm will invest €250 million (US$248.8m) to build a new carbon-neutral whiskey distillery in Midleton, County Cork.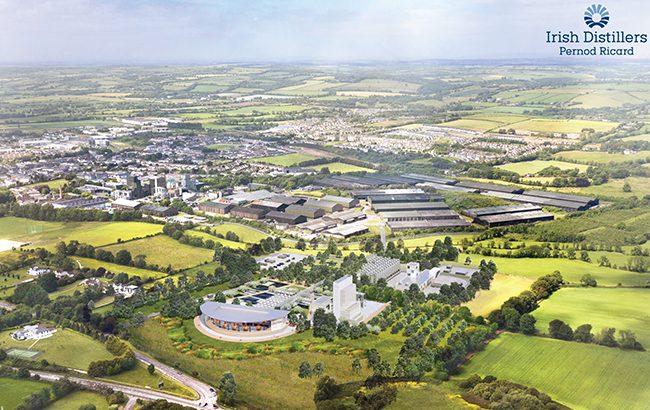 The new site will help Irish Distillers meet demand for its whiskey and enable it to increase future production capacity. It will be located on a 55-acre site adjacent to the company's Midleton Distillery.
The site will produce Irish whiskey brands including Jameson, Powers, Redbreast, Midleton Very Rare, Spot, and Method and Madness.
It will distill pot still and grain whiskey with grain intake, brewing, fermentation, and distillation facilities incorporated into the facility.
The boost in distilling capacity means the distillery will need up to 50% more barley and malted barley, which the producer plans to source from local farmers.
The new Midleton facility is expected to create up to 100 new jobs for the region once the distillery is operational in 2025, and around 800 positions during the construction phase.
Nodjame Fouad, chairman and CEO at Irish Distillers, said: "We are immensely proud of the continued strong performance of our full portfolio of Irish whiskeys, led by Jameson which sold over 10 million cases in our 2022 financial year.
"The new distillery will be a beautiful, landmark development with sustainability at its core and will serve to further demonstrate our commitment to Midleton and East Cork, generating more jobs for the region and further driving recognition of Midleton Distillery as the beating heart of Irish whiskey."
Pernod Ricard's Irish whiskey subsidiary intends to submit a planning application to Cork County Council for the new distillery towards the end of 2022. Construction is expected to commence in 2023 if the site is successful in gaining planning approval.
The new distillery will also include various environmental projects in order to enhance biodiversity and protect local wildlife.
The project follows Irish Distillers' recent €50m (US$52.2m) investment to make Midleton the first and largest carbon-neutral distillery by 2026. The adjacent distillery will also be a carbon-neutral operation.
Tommy Keane, operations director at Irish Distillers, added: "Whiskey has been distilled in Midleton for almost 200 years and as such it has always been our desire to secure the future of distilling in East Cork.
"We are incredibly proud of Midleton's well-earned reputation as the home of some of the world's most loved Irish whiskeys, and today's announcement – along with the ongoing €13m redevelopment of our visitor experience – will cement Midleton's reputation as a world-renowned whiskey destination.
"Through the delivery of this distillery, we also plan to play our part in supporting Ireland's decarbonising strategy while also aligning with Pernod Ricard's commitment to follow a net zero trajectory by 2050."
This article originally appeared here.
---
Share this post
---
---