Irish whiskey production is being hit by high energy prices, shipping delays and increased costs of grains, as the sector feels the impact of the Russian invasion of Ukraine, according to a new report.
Some 92% of Irish whiskey producers say supply chain delays, as well as rising energy prices and problems with international shipping and port access, have negatively hit production and will likely be a risk in the future, according to a survey by the Irish Whiskey Association (IWA).
The survey says two-thirds of whiskey makers have delayed launching new products, while more than three-quarters have switched suppliers.
The findings are part of the IWA's international trade report for 2022.
Despite the challenges, the report says that a record 14 million cases of Irish whiskey were sold globally in 2021, an increase of 21% compared to the previous year.
While strong growth is expected again this year, the report says producers face increasing cost pressures, including a "sharp" increase in the price of malt, "with SMEs facing serious challenges".
The annual report notes sales to Russia have "largely ceased" while sales to Ukraine have "substantially" declined.
Prior to Russia's invasion, both countries cumulatively accounted for 7% of all Irish whiskey sales in 2021.
The industry says India, Nigeria and China have been identified as future growth markets.
Speaking ahead of the report launch, William Lavelle, director of the Irish Whiskey Association, said: "2021 was a year of rebound for Irish whiskey with a record 14 million cases sold around the world, and this year looks set to be another outstanding year for export growth. Overall, Irish whiskey exports will grow again strongly in 2022, facilitated by supportive international trade policy.
"However, Irish whiskey is facing many serious international trade and supply chain challenges, and the fact is that not all brands will grow this year. It is notable that the reported supply chain difficulties are being experienced equally by both large and small producers, and it is likely that the serious impacts will be felt hardest by SME producers."
The association has called for an expansion of free trade agreements (FTAs) to reduce tariffs on Irish whiskey in Australia, India, Kenya and Thailand.
Under the UK-Australia FTA, agreed in December 2021, a rule change meant that grain whiskey distilled in Ireland but matured in Northern Ireland could qualify for the 0% tariff for Irish whiskey.
The trade report said this was "particularly important as there is no grain whiskey distillery in Northern Ireland and many Northern Irish producers purchase grain whiskey from Ireland for inclusion in blends."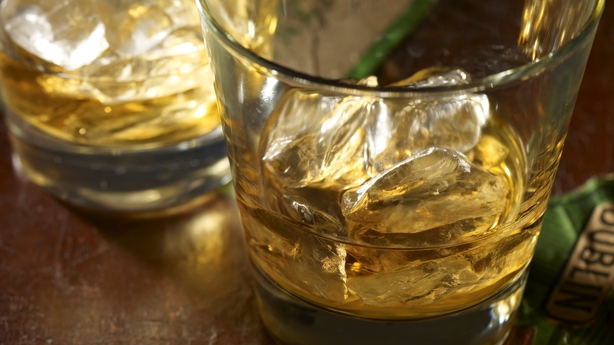 The whiskey association has been lobbying the EU for a similar arrangement in the upcoming EU-Australia FTA, which is expected early next year.
Mr Lavelle said he was confident that Irish whiskey, which sources products from Northern Ireland, will be granted a zero tariff exemption.
"We have made a lot of progress in convincing EU negotiators of the need for a change in the rules-of-origin in future free trade negotiations," Mr Lavelle told RTÉ News.
The key supply chain issues include increased costs and delays in international shipping, including access to ports.
As well as the problem of increased energy costs, the report found producers are struggling with more expensive malt and grain, wooden casks, paper and cardboard and glass bottles.
Over 95% of all glass bottles used for Irish whiskey are currently sourced in the UK or EU, with the UK being the largest supplier.
Prices for glass bottles increased by between 20-30% in 2022, while the lead times for delivery of bottles have increased for all distillers by an average of two months.
Prices of American oak barrels have increased on average by 30%.
The United States remains the main export market for Irish whiskey, with 5.8 million cases being sold in 2021, accounting for 41% of global sales.
Over 26%, or 3.7 million cases, were sold into the EU. The UK accounted for 4.6% of global exports, buying 644,000 cases.
The IWA Global Trade Report is being launched this evening in the European Parliament and tomorrow evening in the House of Commons.
This article originally appeared here.